CV
Hannah Neckel, based online as @voidgirl69 is a Transmedia Artist
merging online & offline worlds in aesthetic bliss ✨


Her multimedia XXXperiences seduce into a dreamy hyper space where the digital sphere of the internet and the physical world merge.

The Internet as a utopian place of longing serves as the starting point for the desire for freedom that manifests itself in the works and is generated in an interplay of online and offline footage.

The real space becomes an extended virtual reality and a place of refuge that confronts user:inside with their own emotionality *~good vibes only~* The aesthetics of the internet spill into the space as if from a glass, overflowing and overlapping, merging with the surrounding like the layers of a Photoshop file.

exhibitions
2022

Vienna (AT):
Museumsquatier Raum D "Experience Near Death Experience" curated by room69

Bergen (NOR):
Mikey Laundry Art Garden "came here to manifest but got lost in translation" curated by Mikey Laundry
with room69

Los Angeles (USA):
LA Artcore "tba"
curated by Pranay Reddy
with room69

London (UK):
offsite "Re-Imagine Newham" curated by Nicole Tatschl

Vienna (AT):
Karlsplatz Red Carpet Showroom
"like the lines of my body are melting away" curated by room69

Vienna (AT):
the dessous "pushy" curated by Gert Resinger

Oberösterreich (AT):
Edition: x OOEK ""
Gmunden (AT): Oberösterreich Kultur "tba" curated by Alfred Weidinger

Vienna (AT):
phileas project "soft machine"
curated by Jakob Lena Knebl & Ashley Hans Scheirl

Genf (CH)
le grain espaces decreation "Vienna Internationale" curated by Nikita Shukov

Berlin (DE)
Kleine Humbolt Gallerie "I AM ELEVATING IN ALL WAYS "
curated by Anna Latzko

Berlin (DE)
erratum gallery "tba"
curated by Katya Quel Elizarova

Vienna (AT):
AA Collections Gallery "tba" solo presentation curated by Georgij Melnikov

Vienna (AT):
Parallel "tba"
curated by Georgij Melnikov for AA Collections Gallery Statement

Vienna (AT):
AA Collections Gallery "tba" window exhibition curated by Georgij Melnikov

Vienna (AT):
Never at home "Hyper_r" curated by Vera and Clara Grillmaier

Vienna (AT):
AA Collections "When lights close their tired eyes"
curated by Georgij Melnikov
Gmunden (AT):
Festival "Gmunden.Photo"
curated by Beda Achermann
Modena (ITL):
Metronom "digital as device"
curated by Martina Cavalli
Berlin (GER):
FeldFünf "queer and beyond"
curated by Benjamin Egger and Magdalena Kovarik
for Postdigitale Kunstpraktiken in der Kulturellen Bildung at FH Potsdam
NYC (USA):
Satellite Art Club "Doomsday Evolution"
curated by Tong Wang
Google Street View:
"𝖎 𝖜𝖎𝖘𝖍 𝖞𝖔𝖚 𝖜𝖊𝖗𝖊 𝖓𝖔𝖙 𝖍𝖊𝖗𝖊" room69
curated by Brooklyn J. Pakathi,
Maximilian Prag & Cris Anutoiu
Vienna (AT):
Vienna Art Week
"House of Losing Control"
curated by Robert Punkenhofer & Julia Hartmann
Vienna (AT):
The Dessous "back to the future"
curating the "queer" Room
2021
Vienna (AT):
Fluc "Reality"
curated by Brigitte Kowanz and Anna Zwingl
Vienna (AT):
Semperdepot "Art Kolkhoz - für Mama"
curated by Vincent Matuschka
Moscow (RU):
@fetchish_magazine x @svalka.me "pop up exhibition / queer party"
curated by Fetchish Magazine
Internet:
"Bubbles and Borders"
curated by LeerEmptyBlank
Linz (AT):
Off Site "LINZ FMR Festival"
curated by Jakob Dietrich
Linz (AT):
Salzamt "Edition:"
curated by Judith Gattermayr
Vienna (AT):
Vienna Art Week "Open Studio Days"
Vienna (AT):
University of Applied Arts
"Angewandte Festival 2021"
curated by Brigitte Kowanz
Vienna (AT):
r00m69 "Somewhere Between There And Here"
curated by Brooklyn J. Pakathi
Vienna (AT):
Parallel Editions Gallery Statement
with AA Collections Gallery
2020
London (UK):
Austrian Cultural Forum "HYPERSURFACES"
curated by Nicole Tatschl and Caterina Avataneo

Salzburg (AT):
Persicope "SUCH SOFTENING LOCK"

Jesteburg (GER):
Kunstverein Jesteburg "What cheese are you?
Video, Digitalisierung und Internet today"
curated by Malte Struck

Berlin (GER):
Re:Publica 2020 Campus "Netzwerke"
curated by Enrique Torres

New York (USA):
Featured Artist by De:Formal Gallery

Potsdam (GER): Artist Essay in Publication from FH Potsdam
"Transdisziplinäre Begegnungen zwischen postdigitaler Kunst und Kultureller Bildung"

Wien (AT):
Space20 "#1" Group Exhibition
curated by Elsa Okazaki

Wien (AT):
Das Dessous "Art Kolkhoz - für Papa"

Wien (AT):
Die Schöne "Post Internet Art Generation"

Wien (AT):
Leeremptyblank "No Matter. What?"

Wien (AT):
Schloss25 x Museum of Now Sculpturengarden
"Hortus Conclusus"
curated by Jan Gustav Fiedler

Wien (AT):
Open Studio Days at Schloss25

Wien (AT):
Vienna Art Week "Open Studio Days" Schloss25

Tokyo (JPN):
Austrian Cultural Forum Tokyo Publication #JAPANREVISITED202X

Internet:
Oberösterreichische Kultur "VALIE EXPORT x CYBER ARTS"
curated by Anika Meier

Internet:
@anika doggy artist series
curated by Anika Meier

Internet:
NRW Forum nextmuseum.io

Internet:
Well now WTF?
curated and hosted by @silicon.valet

Internet:
ArtegateVR Art Fair
curated by Miriam Arbus @skyfinefoods

Internet:
Artist Talk for ACF London

Internet:
Surf Conference
Co-Organizer/ Artist Talk / Panel Talk

Internet:
Artist Talk hosted and curated by @homescreen._

Internet:
Refraction Festival 2020

Internet:
Austrian Cultural Forum Tokyo #JAPANREVISITED202X

Internet:
Fetchish Art Magazine
Co-curated Article by UC London
2019
London (UK):
Arebyte Gallery "Digital Home"
curated by clusterduck

Internet:
The Wrong Biennale "Lossless Bodies"
curated and hosted by Miriam Arbus @skyfinefoods

Vienna (AT):
Anatolia Schnitzel "*~post virtual garden~*"
solo exhibition

Vienna (AT):
private location "flatconcert nr 5 - rosa"

Berlin (GER):
Public Art Lab "UN/NATURAL SURROGATES"
curated by Benjamin Egger hosted by FH Potsdam

Vienna (AT):
Anatolia Schnitzel "entfremdet "
curated by Maximiliane Hogebre

Oberwart (AT):
Offenes Haus Oberwart
"30 Jahre OHO"

Chemnitz (GER):
Begehung 2019 "Rausch"
1 Month residency

Internet:
offsiteproject zip
curated by clusterduck

Potsdam (GER): Forschungsprojekt postdigitale Kunstpraktiken at FH Potsdam


2018
Internet:
wuu2 instagram residency

Internet:
Virtual Superland IGTV interview


2017
Internet:
The Wrong Biennale "Gal Zone" curated by Jumoke Fernandez

Oberwart (AT):
Offenes Haus Oberwart "Junge Kunst"

Wien (AT):
Die Angewandte "Essence 2017"

Wien (AT):
Lerchenfelderstraße 90 "HD LABOR"

Wien (AT):
Lichthof Angewandte "VIDEOCODEC"


2016
Wien (AT):
Lichthof Angewandte "Videolive"

Wien (AT):
Die Angewandte "Essence 2016"


2015
Wien (AT):
Die Angewandte "Gesichtspunkte"


2012
Eisenstadt (AT):
Landesgalerie Burgenland "Neuartig 2"


2011
Oslip (AT):
Cselley Mühle "Zooming Culture"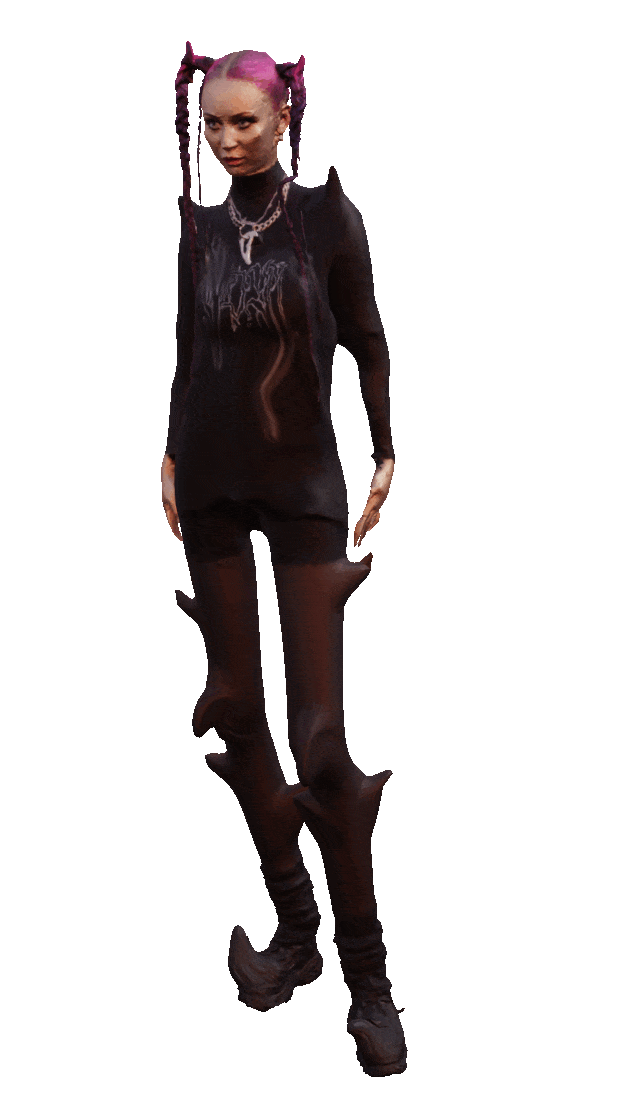 i wish you were not here
auratic flow is a digital room installation featuring 3 sculptures, a heart, a tribal and one graffiti found in the 3d scanned room, superimposed by a text sculpture reading "i don't want reality".

Pink water flows from the translucent sculptures, frozen in time creating a fluid auratic experience. Space and Time melt together through the voyager to embrace the aura of the work. The objects in itself become auratized only by human influence.
Transformed by the reproduction of the digital space, the unique becomes a mass phenomenon.


They replace the involuntary memory with the familiarity of the images, at the same time remove any distance from the work and it's embedding in tradition.

Because of the digital availability, the work no longer belongs to the past, but is always present, admittedly in an empty time.

In the context of the accumulation of data and the massification of information, the heart becomes a device of our self. And within this device the aesthetic is also social - an element of cultural hegemony. By connecting to the device we stand for the central cultural quality of global consciousness

group show for
@solo___show
online on google street view 

𝖇𝖑𝖊𝖘𝖘'𝖊𝖉 𝖈𝖚𝖗𝖘𝖊
Bless'ed Curse is a massively multiplayer, decentralized project organized by
@greedy_rigor
and
@rhizomeparkinggarage
.
Unfolding across the sprawling grounds + interior of a fantasy complex, 23 international artists and artist projects come together to co-create a liminal space that hovers just outside of reality. The result is a polyvocal chorus punctuated by both sullen and sublime intensities - ranging from performances to installations and digital work ❦
In their latest installment of exhibitions, the artist collective @r00m69 is pleased to present 𝖎 𝖜𝖎𝖘𝖍 𝖞𝖔𝖚 𝖜𝖊𝖗𝖊 𝖓𝖔𝖙 𝖍𝖊𝖗𝖊, a Google Street View based hybrid intervention and virtual experience. Topologies of virtual space that mirror real-world locales have evolved into a new architectural arena for the creation, exhibition, distribution and experiencing of art. These virtual landscapes, however uncontrolled, uncurated, unmanaged, pull on the atmosphere of the physical areas in which they are anchored, toying at protest and deconstruction, and push beyond the appearance of "the real."
stack overflow
everytime i get close it disappears
drawing from the yearning for connection and experience, the digital sculptures play with the intangibility of virtuality. a space the visitors can experience, wander around in, but never fully be a part of. its the ultimate in disassociation, the dissolution of the physical.


there is no physical for these sculptures to become. materiality in a simulated reality becomes apparent. the virtual world of the exhibition being covered in bright green fog, the works only appear through exploration, being hidden in the depths. just like the immateriality of the fog, the internet is intangible.
s̴̬̮̰͂́̂̊́͑͐̿͘͝t̶̟͓͍̻̜͍͑̇̋̔͝a̵̧̢̧̻̻̘̤̼̭̋ͅc̵͇̺̱͙͉͙̈͗̊̌͒͘ḵ̸̭̫̋͆̋̑̒͆͐̽̎ ̵͎͚̀̈͗̅̓̾̈́͝o̵̧͚͓͉͋̉͠ͅv̸̡̛̯̪̯͐̀̈̃̔̚͝e̵̖͓̟̼͉̟͈̓͛r̴͇̣̞̔̆f̵̧̮̞̟̤͇͖͖̽͠͝l̸̛̗͂́̔̒̌͊͑o̷̫̍̎̋͂͛̊̀͆͒͂w̸̢͓̬͕̪̒̇̈́͆̚

Is the first part of a 3 level show of the room69 collective for this years Wrong biennale. In addition to the collectives members they invited several international digital artists to accompany them in experiencing virtual extremes.
Under the topic of overstimulation and oversimulation the digital show hosted in New Art City creates a paradoxical situation and oscillates between the highs and lows of our virtual worlds. 
On one hand dealing with being exposed to a perpetual stream of information and image online and addressing the problems that come with it - like cognitive and mental incapability to endure the data flood - the works itself are adding fuel to the flames and making issues even more obvious.

On the other hand there is our desire for eternity, breaking up physical boundaries. Embracing the simulation, dematerialize and eventually transcend through our virtual avatars into utopia. 
By putting these concepts next to each other the contrast gets even more exaggerated ending up in a digital near death experience that gives a perception of what might be there to come.
🐶
doggy

🐶


"doggy" is a staged re-perforance of "Aus der Mappe der Hundigkeit" by Valie Export (1968) in collaboration with curator Anika Meier, a reflection on the role of women in Austrian society over the last 50 years and how it has changed since.

Immediately after the first Lockdown in Vienna in 2020, the touristic Schönbrunn Palace Park was reopened to the public at that time. Just as people found solace and connection in the online world during lockdown times, they now returned en masse to this public place that had been denied them for months. This constant being online had a profound impact on society, with the type of content we consumed there having a lasting effect on how we viewed the world.

The performance confronts passersby who have been exclusively online for months with a kind of female representation in public that is usually reserved for online spaces, exploring how they react in contrast online and offline. Online, we are desensitized to a certain oversexualized image of women that in physical life evokes shock, shame, and aggression in public. The reaction to this performance is a kind of violence against the representation of femininity.

Provocation and aggression are means of pointing out social ills and stimulating discussion. However, the Internet offers women the opportunity to present themselves as they would like to be seen - to establish the female gaze as an alternative to the male-dominated physical reality in this space and to generate a feminist utopia online.
exhibited at:

Internet: @anika "Doggy Instagram Series" curated by Anika Meier

NYC (USA): Satellite Art Club "Doomsday Evolution"curated by Tong Wang

VIE (AUT): The Dessous "Art Kolkhoz für Papa" curated by Nikita Sukhov
𝓉𝒽𝑒 𝑜𝓃𝓁𝓎 𝓉𝒾𝓂𝑒 𝓎𝑜𝓊 𝓈𝑒𝑒 𝓂𝑒 𝒾𝓈 𝒾𝓃 𝓂𝓎 𝒹𝓇𝑒𝒶𝓂𝓈



THE ONLY TIME YOU SEE ME IS IN MY DREAMS centres around a VR sculpted heart, expanding its structures, encapsulating a fragment of a poem reading "reality is melting away before my eyes", dipped into a soft glow. The poem is continued in the title THE ONLY TIME YOU SEE ME IS IN MY DREAMS. The euphoric idea of the unlimited possibilities of the information infatuation, finds an expression in the metaphors of the virtual sculpture, utilizing internet aesthetics to visualize the yearning for connection and community. Emotions are the transcendental element of the contemporary condition, humanity is striving towards a future distinguished by connectedness.

2021


exhibited at:
Internet: Misa.Art by König Gallery "NFT Discoveries" curated by Anika Meier